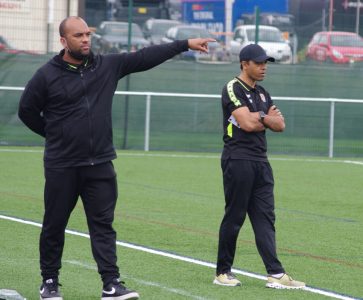 Albion Sports is a great club for young players – Brown
Season Preview
Toolstation NCEL Premier Division
Albion Sports
Albion Sports always tend to have a competitive side and this year looks no different.
Joint Managers
Danny Brown and Ishy Hussain
Former Albion and Campion centre-back Danny Brown has joined Ishy Hussain at the helm of the club following Pav Singh's exit late last year. Brown and Hussain are continuing the rebuilding project which began last summer.
Opening Five Fixtures
Grimsby Borough (h), Irlam – FA Cup (a), Winterton Rangers (a), Garforth Town (h), Staveley Miners Welfare (h).
Notable Movement
In: Camen Bhandal, Marcus Harper, Graham Hall (Campion), Jaydan Sandhu.
Out: Andy Cooper (Eccleshill United), Niall Heaton.
One to Watch
Robbie Fox
The young striker is impressing all the time and it will be interesting to see how he does during a full season.
Interview
Joint manager Danny Brown reckons Albion Sports are becoming a great grounding club for young Non League footballers.
Albion have a host of talented youngsters in their squad – many who are first team regulars and Brown admits handing opportunities to young players is a major part of their ethos.
"It is a good place to be for young lads," Brown told Non League Yorkshire.
"People might question what it is successful but if we get two or three young lads progressing into a higher level that's also success to us.
"We have got a young side and if so-called big teams come in for them then I'd like to think that is a success as well where we finish in the league.
"We have got a lot of young lads with potential. We have Spencer Gordon, Robbie Fox, Jayden Sandhu, Ryan Clay, Curtis Peters, Finn Donovan and 17-year-old Callum Brown to name a few.
"We have an open door policy and we'll always welcome players to training to have a look at them.
"We don't tend to turn players down.
"We want people to recommend us as a good place for young players and we are just trying to get Albion back on the map.
"In our local cluster there's Yorkshire Amateur and Liversedge so when a good player becomes available you're competing with those two giants.
"It is difficult because I believe Eccleshill and Campion have all got bigger budgets than us.
"The way we sell it is that our training is quality and we give youth an opportunity."
Brown also dismisses the idea his and Hussain's young guns are not ready for the league.
He said: "They are very young lads but what is experience?
"Some people might say we're not experienced but a lot of our 22-year-olds have played a lot of football at this level.
"To say they're young they have had a couple of seasons at it, some not with us. Jayden was at Goole.
"People use the word experience a lot and I always say 'define experience to me' because people think experience is a 35-year-old. That's not always the case.
"Experience is based on the number of games the lads have played at the level they're playing at."
Albion kick off the new season with the clash with Grimsby Borough at Farsley Celtic's Throstle Nest tomorrow.
Albion were comfortably in tenth position when last season was curtailed but Brown is not setting any bold expectations for his side.
"We have lost three or four players and brought in three or four players," he said.
"We did lose some good players in Andy Cooper and Niall Heaton but we have replaced them in Jaydan Sandhu and Graham Hall.
"We're not going into season saying we're going to win the league, but we're saying going to give it our best shot and see where it takes us.
"We're quietly confident we'll do alright with the squad we have assembled.
"(The expectations) are just to finish as high as we can.
"Everyone I presume will set off to stay in the league and it is after that in the second phase where you look at other goals.
"Let's have a look at where we are at Christmas and in the last two months of the season.
"That's how we will take it. We'll assess as the season goes along.
"It looks like it is going to be an open league this year which makes it really interesting.
"I think it is going to be a league where everyone beats everyone.
"I don't think there will be someone who just runs away with it.
"I think it will be wide open."
Prediction
Mid-Table
If you have enjoyed reading Non League Yorkshire over the past few months, please consider making a donation to the not-for-profit organisation NLY Community Sport which provides sport for children and adults with disabilities and learning difficulties. CLICK HERE to visit the JustGiving page. There is a video at the bottom of the page showing our work.
NLY Community Sport, run by James Grayson and Connor Rollinson, has always had combatting social isolation at the top of our objectives when running our Disability Football teams.
Our work is playing an important role in reintroducing our players, who have disabilities and learning difficulties, back into society.
We have six teams, a mixture of Junior and Adult teams – Nostell MW DFC, Pontefract Pirates, Selby Disability Football Club and the South Yorkshire Superheroes (Barnsley) – across Yorkshire.
We have enjoyed great success over the past three years. Several of our players have represented Mencap GB in Geneva, including Billy Hobson from Selby and Greg Smith, whose story is quite inspiring.
You can learn more about the organisation HERE and on our Facebook page.
Watch the video below to see highlights from our three years as an organisation. The video was produced for our players at the end of March to remind them of good memories from the last three years.