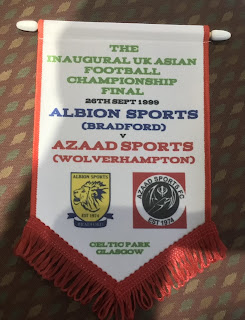 Tales of a house husband
Tale 46 – I am the UK Asian football champion!
The Prince of Tales came running out of school.
On his chest, he had a big badge!
"Dad! I am a Gardening Ambassador for the school Gardening Club!" he informed me, proudly pointing at his new badge.
"Well done" I said. "That's fantastic!"
When we got back to the car, the Prince of Tales asked me, "Have you ever been a Gardening Ambassador?"
I shook me head. "No, we did not have a gardening club at my school and it is quite an unusual title I said."
"Well have you ever had an unusual title?" He asked.
"Oh yes" I responded.
In September 1999, I had just returned to school after the Summer holidays.
It was a Friday afternoon, and I got a message to ring my Sunday League football manager, Kully.
Every Sunday I played for a team called Albion Sports. Albion were one of the top Sunday league teams in the country. It was unusual however to get a call at work on Friday, especially when we had no game on the Sunday!
"Hi Kully"
"Richard, what you doing this weekend?" He asked
Truth was not a lot, but I had visions of a sleep in and watching Leeds play.
"Why?"I asked
"I need you to play in a football tournament. Don't let me down!"
Kully was very good at giving you a guilty feeling before you even had a chance to answer his question!
"When?" I asked.
"Need you to meet at Jacob's Well in Bradford 5pm tonight. It's in Scotland. We are back late Saturday or Sunday night. See you there!"
And with that he put the phone down. It was 3.30pm. I had an hour and half to get a bag together as well as travel to Bradford from Halifax.
I got to Jacob's Well in Bradford at 4.59pm.
I was hoping to see a coach that I could relax on.
I was disappointed.
There, waiting for us, was a 'Shop Hopper!'
The Shop Hopper was an old fashioned looking minibus that took you round Bradford City Centre from one shop to another. Not built for comfort or long rides!
Definitely unsuitable for a football team plus supporters going to Glasgow!
We squeezed on!
On the way, I asked Kully what this tournament was all about!
I found out;
1 It was the UK inaugural Asian Football Championships! This was not a small tournament!
2 It had been introduced to encourage more Asian participation in football.
3 Many major cities had sent a team. We were representing Bradford.
4 The tournament had two mini leagues. The winners of each league would play in the UK Asian Cup final that would be on the Sunday! Losing teams leaving tomorrow.
At this point in the story, the Prince of Tales had a question, "Dad, I never knew you were Asian!"
"I am not Asian" I replied. I had been picked because;
Three non Asians were allowed to play in each team.
A player must have pulled out! Although I was a decent player, defenders were not rare. If you had three wild cards, you would be looking at a play maker, a goalkeeper and a goal scorer. I was none of those and was obviously a last minute selection!
It was a very long journey! When we got to Glasgow, we were booked in a Travelodge. There were more people than beds, so we had to do the best we could.
It was probably not the best preparation!
I had the feeling the way the weekend had started we would be knocked out tomorrow and quickly back on the bus on our way home!
I couldn't have been more wrong!
On the Saturday morning, the 'Shop Hopper' took us to the Meadowbank Stadium, an area with lots of football pitches where the First round games would take place!
We (Bradford City) were drawn against Leeds United, Smethwick (WBA/Birmingham), and Sporting Bengal (London)
In the other group were Azaad Sports (Wolverhampton), Sikh Temple (London),
Leicester City and SASA (Glasgow)
It was weird playing against Leeds United. They had the full Leeds kit on, and as a lifelong Leeds Fan it felt a bit wrong! It did not stop me scoring though as we won 5 1.
We then drew with Smethwick, which meant we needed to beat Sporting Bengal to get to the final. Football wise, they were brilliant. Far better than us. However, they could not score! So despite 90% possession, they lost 2-0 to us and we reached the final.
We were told the final was Against Azaad Sports Wolverhampton who won the other group and the final would be at Celtic Park, home of Glasgow Celtic!
I took this with a pinch of salt. Celtic probably had a training ground, and that was likely the venue. However, still a great feeling to play in a UK Final!
That night we had a tour and evening in Glasgow, an experience in itself!
If I had realised what was coming the following day I would have gone out! That Sunday was one of the most memorable days of my life!
The final WAS at Celtic Park!
We saw the famous trophy cabinets, and changed in the world famous dressing rooms.
A crowd of 3,000 watched us beat Wolves 4 – 2, meaning Bradford were the Inaugral Asian UK football champions.
The trophy was presented by John Barnes the Celtic Manager!
Barnes was a legend to me for three reasons!
1 He is the best player I have ever seen play live.
2 He played in the 86 and 90 World Cups for England, iconic times of my youth.
3 He rapped on the greatest football song ever! World in Motion – New Order!
That night we had a civic reception in Glasgow before returning home on the 'Shop Hopper.'
We got back to Bradford in the early hours of Monday morning.
A few hours later, at school, Mick the Caretaker asked what I did at the weekend.
I answered;
"Nothing special, I just became the UK Asian Football Champion at Celtic Park and was honoured with a Civic Reception, meeting the Mayor of Glasgow and John Barnes!"
Mick laughed and walked off. Telling me to "S** off."
That week the 'Telegraph and Argus' a Bradford newspaper contacted me to do an article on the weekend.
I turned to the Prince of Tales.
"So what do you think of that for an unusual title?"
He shrugged his shoulders " It's ok, but I still would prefer to be a Gardening Ambassador."
Each to their own!
Have you ever had a last minute offer that ended up being a lifelong memory! Or have you had an unusual honour or title?
Let me know!

Source : – https://tales-of-a-house-husband.blogspot.com/2022/09/i-am-uk-asian-football-champion.html?fbclid=IwAR3uOo1vxNphwNzMj6NJegrBI91DNia8TqaJU85AKgxYEHXxYZZHFUkg0ZI&m=1