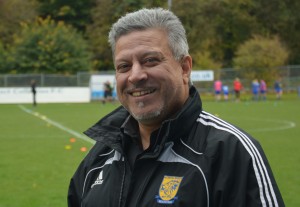 Sandhu Speaks to T/A reporter Nathan Atkinson
ALBION Sports face a crunch clash at fellow Bradford strugglers Thackley in the Toolstation Northern Counties East League Premier Division tomorrow, with manager Kulwinder Sandhu feeling frustrated by off-pitch matters.
Sandhu is unhappy that his side currently sit in 15th place but he feels that is a reasonable effort given the circumstances.
He said: "It's a bit disappointing but we have to be realistic. We've lost our front three from the past few years, Omar Habeeb, Danny Facey and Alex Cusack, so it was always going to be difficult.
"They all signed for Campion over the summer, which is a strange one because they play in the division below.
"It means we have to rebuild and find players but they often end up getting poached by other clubs."
Another issue niggling Albion's manager is his side's ground share situation. They are Farsley Celtic's tenants at Throstle Nest, which brings up several pressing issues.
Sandhu complained: "We're the only one of the four Bradford district clubs in the Premier Division without our own ground. The others can put structures in place with development sides, under-18 and under-21 teams.
"We can't do that as our hands are tied as tenants. We don't even get a proper pre-season because of our situation (Albion played just a single friendly at Yorkshire Amateur on July 7)."
Albion initially played at Bradford Council-owned Horsfall Stadium when they joined the non-league pyramid in the 2011-12 campaign.
But their ground-share with Bradford Park Avenue was ended after two seasons and Farsley provided them with an alternative base.
Albion's home record is dragging them down the table, with just one point from six games, but Sandhu believes that is easy to explain.
He said: "It doesn't feel like we're playing at home. We're from the middle of Bradford yet we're playing in Leeds.
"It's no coincidence that our three wins this season have all come away, at Hall Road Rangers, Yorkshire Amateur and Harrogate Railway."
"We've got more tradition and history than most other sides so I'm desperate to get us back here to Bradford."
Sandhu will hope to make it four away league wins at Thackley, and he was full of praise for tomorrow's hosts.
He enthused: "I have a lot of respect for them. I'm an ex-player and I know a few of their committee members. For me, they're the best run club in Bradford.
"Tomorrow is a massive game for both sides and it will be important to get the win.
"I wish both of us weren't struggling but other clubs just have more financial clout than we do."